Picture flowing rivers, granite tors, and purple heather-clad moors; you'll soon realise why so many outdoor enthusiasts love wild camping in Dartmoor National Park. This place is ancient, shrouded in mystery, and home to countless legends and myths. This combination of natural beauty and unmatched mystique easily turns Dartmoor into a dream come true for any wild camper.
There are many excellent spots across Dartmoor where you can spend a night under the stars and enjoy breathtaking views from the comfort of your tent, and we've made sure to include the best of them in our guide.
Where in Dartmoor is Wild Camping Allowed?
Those interested in wild camping in Dartmoor National Park must consult this interactive map before heading there. The map shows areas where wild camping is permitted – the north moorland plateau, the south moorland plateau, and a few smaller areas in the east.
In addition, you'll have to adhere to the following rules:
Large-group camping and large tents are forbidden.
You have to stay out of sight of buildings and roads.
You can only stay in one place for up to two nights at a time.
You can't stay overnight in a motorhome, campervan, or any other vehicle.
Open fires, disturbance of wildlife, and pollution of the park's grounds are forbidden.
Take all the litter with you, don't leave anything behind.
Best Spots for Wild Camping in Dartmoor
Cosdon Hill
A prominent natural feature of Dartmoor is Cosdon Hill. Visible from miles around, the vast dome of this hill dominates the National Park's northern border. While it takes some effort to reach its peak, Cosdon is relatively easy to climb.
You're best off starting your trip from Belstone, a moorland village. Parking is available at the village entrance; leave your vehicle there and go to Belstone Cleave. From there, follow the grass path around the hill's northern side and switch to the next trail leading to the summit.
The summit is easily identifiable – there's a trig point, a pile of rocks next to it, and some rock shelters that can protect you from the high winds. As you might expect, the views are spectacular. From the top, you'll see all the way to Exmoor National Park and the North Cornwall coast.
All of Cosdon Hill is situated inside the section of the National Park where wild camping is permitted. In other words, you can set up camp on any side of the hill you want. Naturally, you'll want to pitch your tent in an area less exposed to wind. One of the many rocks on and around the hill should provide sufficient protection.
Okehampton Common
Situated just below Yes Tor – Dartmoor's second-highest point – is one of the park's most stunning moorlands: Okehampton Common. While it's close to the town of the same name, this moorland feels a world away from civilisation.
To reach Okehampton Common, take the westbound train at the town's railway station and exit at Meldon. From there, head south via a cycle track and switch to a tarmacked road just before the Meldon Junction. The route will take you to Meldon Reservoir, from where you'll need to follow the West Okement River and Red-a-ven Brook until you reach the valley below Yes Tor.
Splendid wild camping spots are plentiful along the way. As a matter of fact, the best ones can be found on the West Okement River. An abundance of trees provides shade right next to the water, with the river being nestled in an immensely green and very picturesque valley.
However, for unforgettable views of Dartmoor, you'll want to proceed further south to Yes Tor. You can set up camp along Red-a-ven brook, next to the small creek on the hill's eastern side (see the map) or at its summit. A word of advice – prepare for high winds up on the peak.
Great Links Tor
One of Dartmoor's more remote venues, the Great Links Tor is a free-standing rock outcrop five miles southwest of Okehampton. It is among the most prominent tors in the national park and can be seen from miles around.
The best starting point for those interested in wild camping at Great Links Tor is the village of Lydford. Leave your car at the Dartmoor Inn (there is a large parking lot behind the inn) and head towards the River Lyd Bridge by following the farm wall east. Once you cross the bridge, follow the grass path that climbs between Arms Tor and Brat Tor, and you'll see Great Links Tor on your left.
Remember that the tor can be reached in other ways since this is open-access moorland. Regardless of which route you choose, pack a stiff brush for cleaning your hiking boots – most of the paths are pretty dirty and covered with lichen.
Great Links Tor's landscape can appear downright desolate and gloomy in lousy weather. But on a sunny day, the panoramic vistas turn it into a worthwhile wild camping destination. This is a particularly great spot for sunset lovers. Watch the sun setting over the Tamar Valley with Cornwall in the distance. And if you'd rather experience it up close, see our guide to wild camping in Cornwall.
Ryder's Hill
The two areas shown on the map that displays where you can wild camp in Dartmoor are actually two high moorland plateaus. Both have their highest points: for the north plateau, it's High Willhays, and for the southern, it's Ryder's Hill.
A relatively featureless hill, Ryder's Hill is a lonely place demanding a boggy hike from any direction. However, trekking here is definitely worth the trouble – the summit offers tremendous views of Dartmoor and beyond. On a clear day, one can see all the way to the Isle of Portland and Dodman Point near Mevagissey.
Leave your vehicle at the Combestone Tor Car Park and head south towards the hill. The distinct tracks you'll see on the ground should make the climb more manageable, but the terrain is almost always wet here, so be careful. You should also remember that the weather can change rapidly up here.
At the summit, you'll find a large grassy area and plenty of space for tent-pitching. You will also find two boundstones: one is inscribed H for Holne and the other B for Buckfastleigh. In both parishes, Ryder's Hill is the highest point.
Sheeps Tor
Sheeps Tor is one of only a few places in the area between Dartmoor's northern and southern plateaus where wild camping is allowed. Although smaller than the adjacent Sharpitor, this vertical granite wall dominates the Burrator Reservoir skyline (camping at this nearby reservoir is not allowed).
To get to Sheeps Tor, leave your vehicle at the Gutter Tor Car Park (east of the hamlet of Sheeps Tor) and head northwest across the fields. Keep walking northwest past the Bronze-Age Yellowmead Fourfold Circle, cross the brook, and finally, bear west until you reach the peak.
Once there, you will immediately notice why this place is so popular with rock climbers. Sheeps Tor is unlike any other tors in the area – it's a massive granite wall split by cracks of all sizes and shapes. Wild campsites are aplenty, and you should have no trouble finding a place to pitch your tent.
Given the tor's isolation and height, the 360-degree views it offers are spectacular. While in the area, visit the hamlet of Sheeps Tor. There are some unusual things to see in the village's church and a good old water well.
Cranmere Pool
Another interesting wild camping spot in the Dartmoor National Park is Cranmere Pool. Located in the park's northern half, Cranmere Pool is a small pit in the middle of a peat bog six miles south of Okehampton.
The unusual thing about this place is that it's the site of the region's first letterbox, installed there almost 170 years ago by James Perrot. Truth be told, the old letterbox is pretty much the only point of interest in this area – the scenery is remote, wet, and stereotypically bleak. Still, Dartmoor features a rather complex landscape, and this place – as gloomy as it may seem – reflects one aspect of its character.
Since it's located in the middle of the north moor of Dartmoor, Cranmere Pool can be reached from all directions. Bad weather can, however, make some routes extraordinarily challenging. Your best bet is approaching it from the east, i.e. walking from Hangingstone Hill and passing between East Dart Head and Taw Head.
Many people suggest that Cranmere Pool is best experienced as a part of a hike rather than a wild camping destination. I beg to differ and consider it a good place for tent-pitching and enjoying the region's peacefulness – as long as you do it in dry weather.
Hangingstone Hill
Once known as Newtake Hill, Hangingstone Hill is located in the centre of north Dartmoor and is the national park's third-highest point. As such, it is visible from many other parts of the region. As for the name, "Hangingstone" derives from a rocking stone located on the hill's northwestern slope.
Drive along the military roads from Okehampton to Okement Hill and its observation post. From there, it takes about 2.5 hours of walking along the southern track to reach Hangingstone Hill. It is important to remember that the hill lies within an army firing range, so if a red flag is flying nearby, you should not approach it.
While the hill offers superb views over Dartmoor's north plateau, it is more of a passing place for hikers than a site to visit in its own right. There is only so much to do here besides enjoying the views. Having said that, the hill is an excellent base for exploring Dartmoor and, as such, a superb wild camping spot.
East of the hill is the mysterious-looking Watern Tor. North is the breathtaking view from Steeperton Tor all the way up to Exmoor. South is the Bronze-Age tomb at Whitehorse Hill. West is Cranmere Pool described above. Hangingstone Hill gives you access to all these points of interest.
Kennon Hill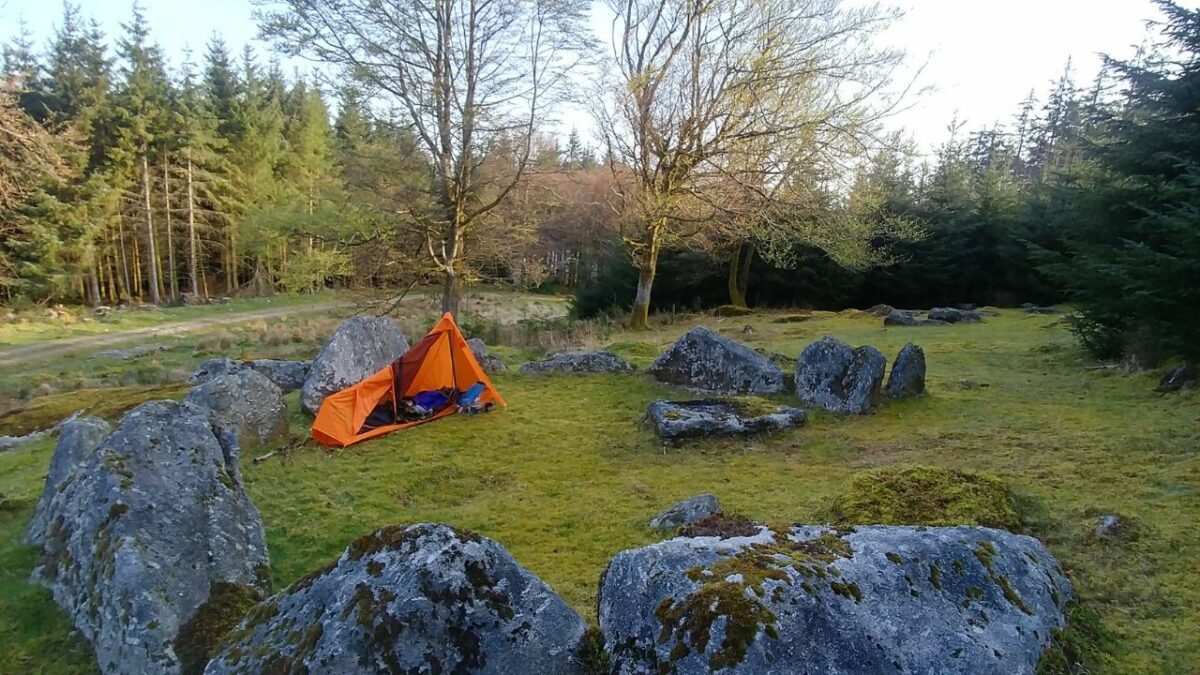 Standing at a decent height for Dartmoor at almost 500 metres high, Kennon Hill is one of the most prominent slopes in the national park. It's a low-contoured, grassy, flat hill featuring just one marker cairn at its summit.
If you're looking for a serious wild camping challenge in this part of Devon, Kennon Hill is your best option. This place is surrounded by some of the national park's most isolated, wettest, and wildest parts. Getting to the top of the hill is relatively easy – the bogs surrounding it are the main issue.
Leave your vehicle at the Shilstone Tor Car Park and walk southwest directly towards the hill. Most of the ground will be rough and awkward. Moreover, due to the highly exposed terrain, you'll be at the mercy of the weather. Still, the stunning views that await you at the summit are more than worth the trouble.
Kennon Hill is an excellent place to set up camp and use it as a base for exploring the surrounding territory. An early Bronze Age settlement lies on the hill's south side. Most of the ground is outside military training areas, but Hangingstone – which is just to the southwest and which I've described above – is inside of it.
Steeperton Tor
Thousands of people flock to Dartmoor because of its tors – unique, much-photographed granite structures. Out of all tors in the national park, Steeperton Tor is the one with the best location. Situated three miles south of Belstone, it sits atop a natural moorland arena curling around Taw Plain's flat surface.
This is one of the UK's most popular wild camping spots. To get there, park your vehicle at Belstone and head south to Taw Plain. Once you encounter a fork in the road, go left, cross the ford, and go further south while keeping the small valley brook on your right. This will take you to Hound Tor and then to Steeperton Tor.
This tor is unique because it's surrounded by water on three sides: Taw Marsh in the north, River Taw in the west, and Steeperton Brook in the east. While it's true that getting to the top requires a lung-busting, steep climb, the view is worth it – especially to the north, across Taw Marsh. You'll have plenty of space to pitch your tent.
The army hut and the flagpole at the summit indicate that Steeperton Tor is within army range. If you notice a red flag while heading towards the tor, do not approach it.
Where to Next?
Fortunately, Dartmoor is only one of many excellent wild camping destinations in this part of England. If you want a change of scenery, head north to the Lake District. Check out my article on the best wild camping spots in the Lake District to learn more about the majestic beauty of this region and its finest tent-pitching sites.
I love hiking, backpacking, and camping. From the Camino de Santiago to the West Highland Way in Scotland or simply a great day hike on the weekend. Hiking refreshes me, my mind, and keeps my body reasonably fit. So far I have walked three Camino routes and many other long distance hikes in the UK, Canada, and around the rest of Europe. One of the best was my hike up Ben Nevis.